OPEN AIR MUSEUM DE LAKENHAL: 100 YEARS AFTER DE STIJL
02.06.2017 - 27.08.2017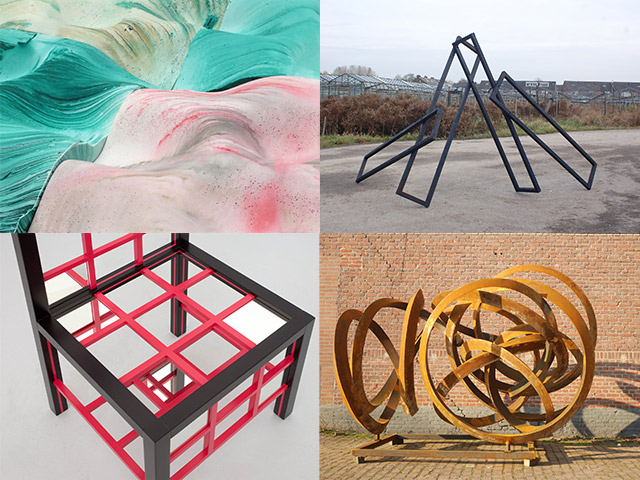 Raakvlakken is a multi-venue sculpture exhibition curated for and sponsored by Beelden in Leiden (BIL).
It is part of a nation-wide celebration -Mondrian to Dutch Design- of the 100th anniversary of the founding of the Stijl movement and the publication of the magazine of the same name by Theo van Doesburg who was living in Leiden at that time.
For BIL, we have selected 11 young Dutch (or those who have studied in the Netherlands) artists to create a work site-specific for the Hooglandse kerkgracht.
As a surplus, we selected 16 international artists to exhibit existing work in a Leiden' landmark office building, the 'Achmea gebouw'.
Last, three sculptures were placed in front of the Leiden University Medical Center.
Artists involved:
Hooglandse Kerkgracht: Dario Bongiovanni, Lorena van Bunningen, Joakim Derlow, Tijl Orlando Frijns, Ruben Jager, Hedri Kool, Daan Liu, Ruben Mols, Suzie van Staaveren, Olle Stjerne and Rein Verhoef.
Achmea gebouw: Iris Bouwmeester, Gerard Caris, Henk Delabie, Edgar Diehl, Daniel G. Hill, Peter Holm, Krijn de Koning, Andrew Leslie, Riki Mijling, Brigitte Parusel, Paul Raguenes, Richard Roth, Rubins J. Spaans, Mary Schiliro, Tilman, Jan Maarten Voskuil, Thomas Wildner. Tevens te zien: een presentatie van de architect van het gebouw, over het gebouw: Fons Verheijen
Leiden University Medical Center: Dieter Balzer, Pieter Obels, Ewerdt Hilgemann.
Click here to see next picture or click here to return to projects