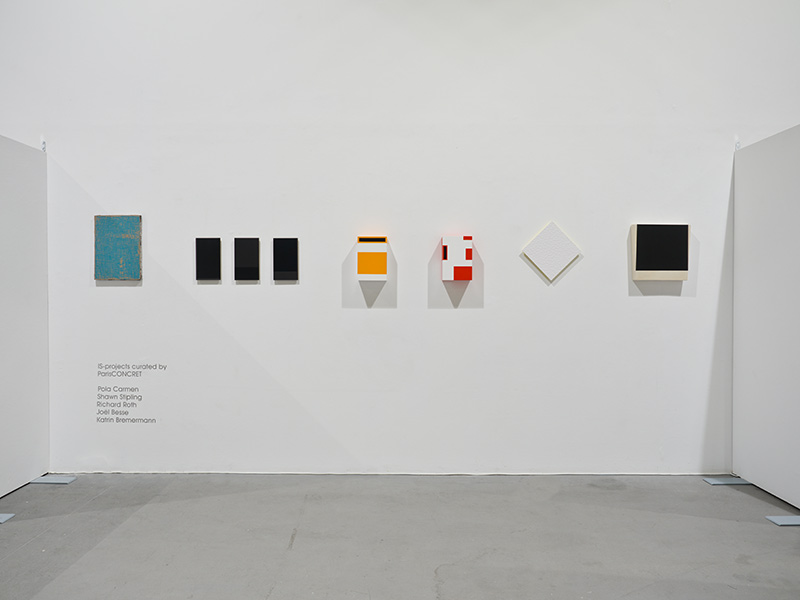 [image: Booth 22 at Platforms Project. Curated by Richard van der Aa for ParisCONCRET. With works by Pola Carmen, Shawn Stipling, Richard Roth, Joël Besse and Katrin Bremermann]
With two partners, we are realising two seperate -yet linked- projects in Athens.
IS-projects has invited Richard van der Aa from ParisCONCRET to curate our booth No. 22 at Platforms Project.
The Platforms Project is an international fair that mainly focusses on non profit independent artist run spaces.
It will be held from 17 May - 20 May 2018 in the Nikos Kessanlis exhibition hall of the Athens School of Fine Art. Address: Piraeus Str. 256, TK 182 35. Opening on Thursday 17 May @ 7 pm. Fri - Sunday: 12 - 7 pm
Richard van der Aa has chosen to present the following artists: Joël Besse, Katrin Bremermann, Pola Carmen, Richard Roth and Shawn Stipling.
Secondly, IS-projects has invited to curate a second exhibtion at Beton7, centre for the arts in Athens. Address: Pydnas St.7, Votanicos 11855. It will be the start of a completely new project called West Projects International. West PI in short. The title of the exhibition: RNOP -Hellenikon, Assemblage No 7.
Assemblage No 7 will consist of a commissioned wall work by Swiss artist Daniel Göttin. This creates a setting and rules for other participating artists to place their work in. With Richard van der Aa, Deb Covell, Iemke van Dijk, Billy Gruner, Peter Holm, Kyle Jenkins, Sarah Keighery, Tarn McLean, Roland Orépük and Guido Winkler.
Information per project on our projects page.
Also, see our updated news page.