GRIT, EXCHANGE BERLIN
16.11.2018 - 18.11.2018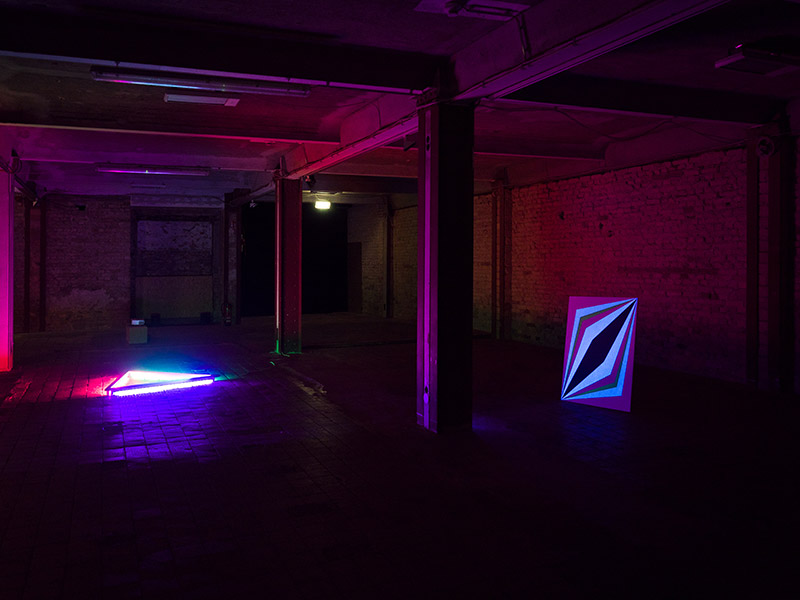 Image: Zora Kreuzer, Module II (2018), wood, coloured fluorescent tubes, 130x110x15cm and 1~∞ possibilities of seeing a particular rectangle a little different, acrylics, UV reflective tape, UV reflective paint, wood, blacklight, 110x80x40cm (2018, 2nd state).
Exchange Berlin, light projections on ground floor #2 (Click next to see work by Zora Kreuzer)
About EXCHANGE BERLIN
Sluice Exchange is a peripatetic biennial expo which this November brings approximately 20 visiting galleries and projects to Berlin. Sluice, in partnership with Das Institut für Alles Mögliche - both non-profit arts orgs with a focus on supporting the artist & curator-led sector - will stage a three day event for galleries and projects that share similar foundational ideologies of independence and artistic engagement. Each participating Berlin-based and international gallery will combine to present a weekend of exhibitions, performances, talks & screenings. Whilst the UK is in the throes of disengagement from the EU - 2018 is an opportune time for a joint UK/EU initiative to deliver an internationally focused event. The expo ambitiously represents the independent art world by examining how global political developments impact on artists at a local level. The Sluice expo looks past current nationalistic trends to interrogate possible futures.
Sluice connects and promotes artist/curator-run and non-profit galleries and projects – globally. These projects are often isolated by lack of financial resources. EXCHANGE BERLIN leverages one asset that we do possess – the network and the will to act collaboratively to stage events beyond the capability of each of us individually.
EXCHANGE BERLIN is officially affiliated to the British council's UK/Germany 2018 season
Location: Kühlhaus, Luckenwalder Straße 3, 10963 Berlin Dates: 16 – 18 November 2018
Times: 16 NOV 1900 - 2200
17 + 18 1100 - 1900
Click here to see next and here to return to projects