ART ATHINA 2015

04.06.2015 - 07.06.2015, Olympic TaeKwonDo Stadium, Faliron Pavilion, Athens, Greece

Booth on 1st floor at Platform Project. Presentation with works from Therely Bare (Redux) artists.
Also 25/25 and Soft Luminosity IS-editions, books and postcards.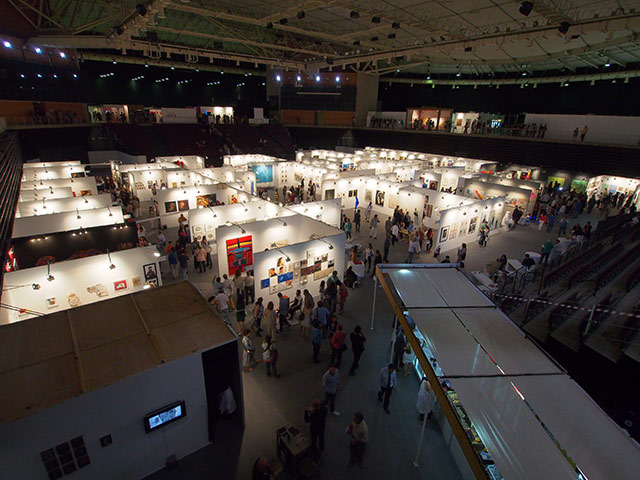 Therely Bare (Redux) with from left to right: Kevin Fnklea, Clary Stolte, Ken Weathersby, John Tallman, Guido Winkler, Iemke van Dijk, Billy Gruner, Lorri Ott, Richard van der Aa, Simon Ingram and Kwang Yup Cheon.
IS-editions:
Soft Luminosity
: Pieter Bijwaard, Taney Roniger, Mark de Weijer, Mel Prest and Veerle Thoben
25 - 25:
Justin Andrews, Linda Arts, Chris Ashley, Sanne Bruggink, Christoph Dahlhausen, Matthew Deleget, René Eicke, Billy Gruner, Brent Hallard, José Heerkens, Gilbert Hsiao, Arjan Janssen, Sarah Keighery, Alexandra Roozen, Léopoldine Roux, Giles Ryder, Clary Stolte, John Tallman, Tilman, Richard Van Der Aa, Iemke Van Dijk, Jasper Van Der Graaf, Henriëtte Van 't Hoog, Jan Maarten Voskuil and Guido Winkler
Speed of Colour:
Eric de Nie, John de Rijke, Tony Harding, Gilbert Hsiao, John Tallman, Henriëtte van 't Hoog
Click here to see more impressions of Platforms Project and Art Athina or
here
to return to projects