IS-projects curated several exhibitions related to the centennial of De Stijl movement in Leiden.
De Stijl, initiated and being published from 1917 by Theo van Doesburg, Kort Galgewater 3.
The exhibitions were
commissioned by Museum De Lakenhal and foundation Beelden in Leiden.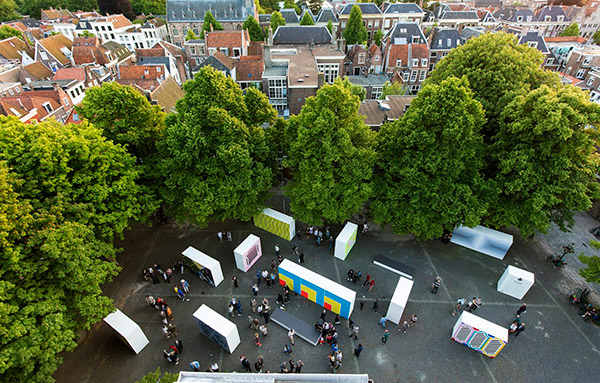 For Museum De Lakenhal we designed and curated the Openlucht Museum De Lakenhal, which was on view from the 2nd of June to August 27, Location Pieterskerkhof. This outdoor exhibition consisted of 20 wall paintings that followed the pattern of a part of Mondriaan's painting Compostition in Line, second state, from 1916-17. Check out the Museum De Lakenhal's website. Image credit: Hielko Kuipers for Museum De Lakenhal.
For Beelden in leiden we curated several exhibitions. The core took place in outdoor public space, address Hooglandse Kerkgracht in Leiden. Here, work by 11 young sculptors iwas on view from May 19 - August 6. The surplus took place in the Achmea building, which has been designed by Leiden' architect Fons Verheijen in 2008. On the groundfloor of this building -inspired by Theo van Doesburg's painting 'Rhythm of the Russian Dance'- you could have seen the exhibition which included 17 sculptures and wall pieces. This happened from May 19 - August 6. Visit Beelden in Leiden's website. IS-projects link to page.
images: Open Air Museum De Lakenhal.